---
Please Note: PayPal is having a problem with the Handling Charge, which should be $4 for every order. For some reason, a few orders are not getting the charge. I have contacted PayPal, but until the problem is corrected I will send a PayPal invoice following any order that does not reflect the $4 handling charge.
When you place your order, please look at the PayPal shopping cart contents to see if the $4 Handling charge is included. If not, please click on the button below. That will make a separate PayPal invoice unnecessary (saving time for both of us).
Handling charge - $4
---
Fishpond Red Tail Wader Belt System w/accessories
by John V.
(Claremont, CA)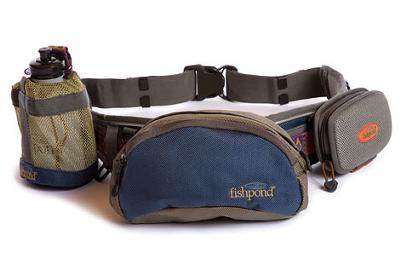 Fishpond Red Tail Wader Belt System
I have been looking all summer for the best minimalist pack system for my Tenkara fishing.

I have tried 3 other packs, bags, and lanyards. Each different system I used had it's strengths and weaknesses. What I was really looking for was a way to carry a fly box, extra lines/leaders, a few basic tools/knife, and most importantly a water bottle.

Thats when I came across the Fishpond Red Tail Wader System.

It is basically a padded wading belt with attachment points for utility pouch, water bottle carrier, and fly box. There are 4 sewn in D ring attachments for various things.

I have been using the excellent Backpack Fly Fishing's Ebira Rod Quiver rod carry system with my Amago and 12' Iwana along with the Fishpond belt system & I have a place for all my gear in a light weight system. On my belt I have 2 zingers for nippers & floatant, I am using a set of powerful fishing net magnets to attach a wading staff to the belt for hands free fishing, my Spyderco fixed blade knife, and I carry my new Tenkara USA Tamo by simply sliding the handle inside the belt.

With this system I can have both hands free for hiking, stream scrambling without stuff swinging around or snagging on bushes and branches. For deeper wading I have just simply taken the belt and slung it over my shoulder across my back to keep it out of the water.

For those looking for a good versatile minimalist system, this wading belt is worth looking at.

Walk softly and carry a long stick. - Teddy Roosevelt (almost)

Tenkara has no strict rules. Enjoy tenkara in your own way.
- Eiji Yamakawa
"The bitterness of poor quality remains long after the sweetness of low price is forgotten" – Benjamin Franklin