First Time Micro Fishing
by Ted Naydan
(Charlton, NY)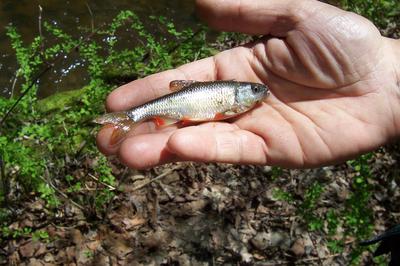 Red Fin Shiner, This was my top lunker of the day
I've been fly fishing since I was born, but today was my first time out "micro fishing." I just got my Daiwa six foot Tanago Rod. Today I went out to a little stream three minutes from my house and tried out the equipment in one of my secret spots. Rigging up this superfine equipment right at stream side in the middle of a wind really pushes your patience. I can't believe it, but I end up catching one of the rarest fishes in my entire state, that is Upstate NY. It is a Red Fin Shiner, lythrurus umbratilis. I actually caught four of them. It is not yet endangered, but listed as of special concern and considered rare. It was one of the best days fishing I've ever had in my life.
Walk softly and carry a long stick. - Teddy Roosevelt (almost)

"The bitterness of poor quality remains long after the sweetness of low price is forgotten" – Benjamin Franklin
---
Warning:
The hooks are sharp.
The coffee's hot.
The fish are slippery when wet.

---