Suntech Field Master
Suguru Long
The Suntech Field Master Suguru Long is a nice keiryu rod - light for its length and rated for 4X tippets. It is similar to the Suntech Kurenai Long in that it has a longer than normal collapsed length - 41 3/8 inches. However, if you do not backpack in to your fishing spots, and if you do not take multiple rods with you on the stream, the longer collapsed length may not be a disadvantage. It definitely yields a couple advantages.
First, with fewer sections, the rod is light for its length - or perhaps more accurately, light for its length and tippet rating! Suntech makes a few very light keiryu rods, but other than the Kurenai Long and the Field Master Suguru Long, the light rods all have lower maximum tippet recommendations.
Second, because longer tubes are easier to bend than shorter ones, and because every joint where two sections overlap there is a double thickness (which creates a small hard spot) a rod with fewer sections will have a smoother bend profile and smoother casting stroke.
Actually, there are two Suntech Field Master Suguru Long rod models. This page is for the H model. There is a also a 2H model, which is beefier overall, has a much thicker tip section and a slightly higher tippet rating. I have not seen the 2H model, but the specs are very similar to the Field Master Honryu (now discontinued) that I had used to catch small stripers in Massachusetts last year. I am sure the 2H model would be capable of landing just about any trout but possibly not steelhead, as the size 1.2 tippet rating would be roughly 6# test. (I recently heard from a guy who knows the Great Lakes steelhead fishery well, and he says the average fish is about 5# so the Field Master Suguru Long 2H might be capable of landing an average to below average Great Lakes Steelhead.)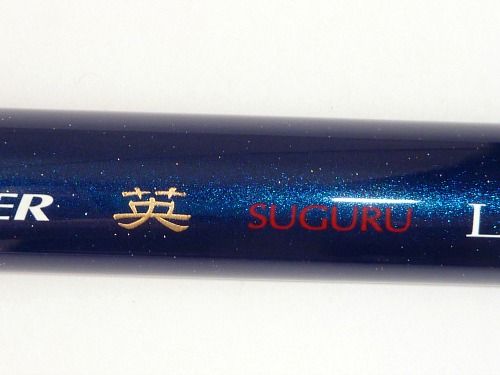 Someone just studying Japanese may conclude that the rod is the Field Master English Long, rather than the Suguru Long. The character for "English" can also be read as "Suguru," a given name with the connotation of outstanding, excellent, or even blossom.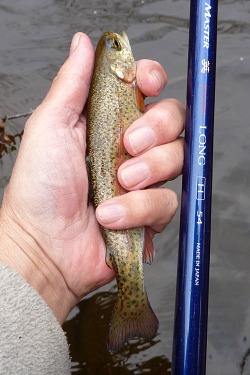 Although the rod is rated for 4X, and thus can be expected to handle slightly larger fish than most keiryu rods, it is still a fun rod with smaller fish. When I had the Field Master Suguru Long H 54 out on a stream I only caught a few small fish. They were fun to catch, but they did not come close to really testing the rod. They put a bend in the rod, it just wasn't be a very deep bend.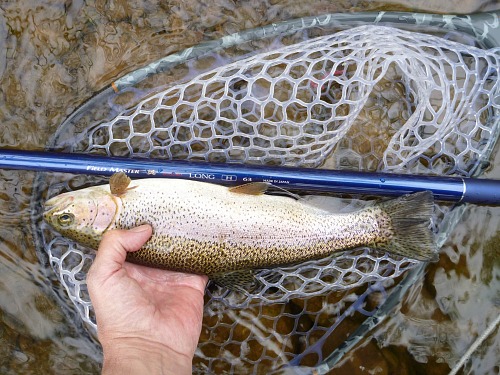 The second fish I hooked on the Field Master Suguru Long H 63.
With a larger fish you'll get a deep bend but will still feel very much in control. Well, I suppose it depends on how much larger the fish is. The first fish I hooked with the Field Master Suguru Long H 63 took off for the next county as soon as it felt the hook and my 5X tippet didn't even slow it down. Note to self: If you are fishing with a 4X-capable rod, on a stream known for larger fish, make sure the 4X tippet spool in your vest has more than a foot of tippet on it! Better yet, always have a second spool with you, just in case.
Long keiryu rods will protect light tippets, but they protect the tippet from a shock, not from a fish that is too strong to stop. Then again, this was the stream that my friend had in mind when he told me my "long rod, short line" approach did not work on big fish.
What he told me is exactly what I experienced: the rod tip will be too low, so if a large fish takes (particularly near the end of a drift) you will not be able to get the rod tip up high enough fast enough to preserve a bend in the rod. Even ERiK Ostrander's advice with respect to carp (You can't stop them but you can turn them if you hold your rod all the way over to the side) probably would not have saved me. It all happened much too fast.
One thing that may have exacerbated the situation was that I was fishing a very deep hole, and had moved my markers higher and higher, and higher before I started to feel the split shot ticking the bottom. It didn't even cross my mind to lengthen my line rather than raising my markers, but by the time they were set properly for the depth, my rod tip was definitely lower than it should have been.
Of course, had I lengthened my line I would have had to hand line a much larger fish than I ever had before. There is another reason (beyond getting great drifts) for the long rod, short line approach when fishing two handed keiryu rods. It is hard to manage a 20' rod one handed when using the other hand to hand line a fish - particularly a fish that could be large enough that you'd want to use 4X tippet!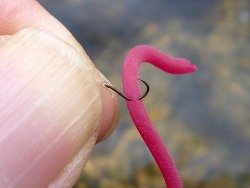 From the comment about my markers, you can tell that I was fishing a keiryu line. That particular stream is artificials only, so I was fishing a Squirmito rather than a worm, but I rigged it essentially the same way (hooked lightly, once, in the middle). Yes, you can go through the trouble of tying a "fly" with the Squirmito material (San Ron Worm - style) but the fish don't care.
The state Game and Fish Department probably does, though! Hooked as shown, it would not be considered a "fly" and could not be used in Fly Fishing Only waters in any state. Some states would accept a Squirmito as a fly if it was tied on the hook with thread or wire, but some states would reject it because it is plastic rather than fur or feathers. Check your state regulations before fishing!

A number of long keiryu rods will work equally well as big-water tenkara rods, and truly, many will cast a light tenkara line very nicely. I think the Field Master Suguru Long H rods are better suited to keiryu than to tenkara, though. They will cast a line just fine, but there is enough inertia with the longer rods, and enough of a tip flex action with the shorter 4.5m rod, that they don't quite have the action you would want for tenkara fishing. If you are drifting weighted nymphs rather than casting frequently and manipulating the fly, as is common with Japanese tenkara, that is essentially keiryu fishing, and for that they are very well suited.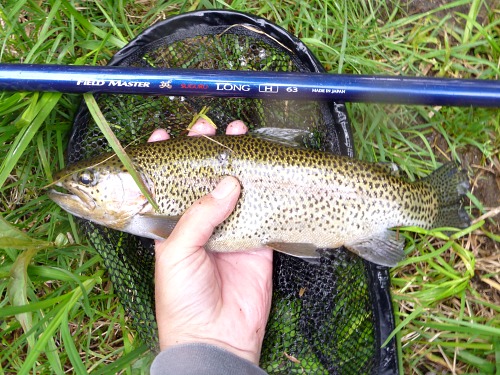 In addition to being rated for tippets up to 4X, the rods are also rated down to 8X. The rainbow pictured above, probably 13 -13 1/2" was caught on 8X tippet without a problem. The fish that broke my 5X like it wasn't even there must have been a very nice fish!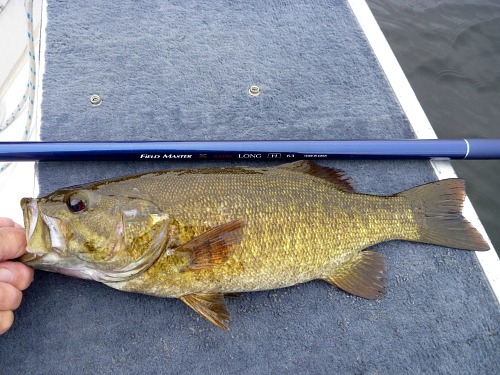 With 4X tippet, chosen more for abrasion resistance than for fish size, the Field Master Suguru Long H 63 proved to be a capable rod for smallmouth bass. The rod cast a size 6 Keeper Kebari very easily with a tenkara line cut from 0X Varivas Fluorocarbon tippet and TenkaraBum Tactical Nymphing sighter, and easily handled the 16-18" smallies I caught in Maine.
In the past, I have suggested a Suntech Keiryu Sawanobori as a nice rod for smallmouth bass. I think the stronger maximum tippet recommendation for the Field Master Suguru Long makes it a better choice.

Suntech Field Master
Suguru Long Features

As with the Suntech Kurenai Long, the Field Master Suguru Long has a very long grip. The nonskid coating on the grip section is 15 3/4". I don't think it is absolutely critical that the upper hand is on nonskid coating when casting two handed, but it is a nice touch. Unlike the Kurenai Long grip, though, the Field Master Suguru Long grip continues the blue color scheme of rod.


The grip screw cap is plastic, is knurled for easy tightening and loosening, and has a rubber O ring, so it won't loosen by itself when you least expect it. There is a ventilation hole.
The rods have Fuji KTC rod caps rather than tip plugs. They are more secure and harder to lose, and I believe they are standard on all Suntech keiryu rods.
I have written a couple times of watching the rod tip for indication of a strike. You would do this are when your view is obstructed and you cannot see your markers or the end of your colored line if fishing with a hi-vis tenkara line. Fishing on the other side of a large rock or standing back from a steep bank are two situations where you may need to watch the rod tip. The upper 5 1/2" of the Suntech FM Suguru Long is painted a bright white, providing a good contrast to the black paint on the rest of the tip section.
Suntech Field Master
Suguru Long H 45
Length extended – 14' 9 1/2"
Length collapsed – 41 3/8"
Weight with tip cap – 3.0 oz
Weight without cap – 2.6 oz
Sections - 5
Tip Diameter – .7mm
Grip Diameter – 20.8mm
Tippet rating – 8X-4X
% Carbon – 99
Pennies - 29
FM Suguru Long H 45 - $195
Suntech Field Master
Suguru Long H 54
Length extended – 17' 9 1/2"
Length collapsed – 41.3/8"
Weight with tip cap – 4.0 oz
Weight without cap – 3.6 oz
Sections - 5
Tip Diameter – .7mm
Grip Diameter – 21.8mm
Tippet rating – 8X-4X
% Carbon – 99
Pennies - 33
FM Suguru Long H 54 - $220
Suntech Field Master
Suguru Long H 63
Length extended – 20' 9"
Length collapsed – 41 3/8"
Weight with tip cap – 5.3 oz
Weight without cap – 4.7 oz
Sections - 6
Tip Diameter – .7mm
Grip Diameter – 22.8mm
Tippet rating – 8X-4X
% Carbon – 99
Pennies - Too long to measure

FM Suguru Long H 63 - $245
---
Shipping
Shipping to US addresses is $20 via USPS Priority Mail (2-3 day shipment). International shipping will be extremely expensive because of the length and weight of the shipping box. Please request a quote before ordering.

Payment
Payment is processed by PayPal but you do not need to have a PayPal account. You can use a credit card.
---
TenkaraBum Home > Rods > Field Master Suguru Long


Walk softly and carry a long stick. - Teddy Roosevelt (almost)

Tenkara has no strict rules. Enjoy tenkara in your own way.
- Eiji Yamakawa
"The bitterness of poor quality remains long after the sweetness of low price is forgotten" – Benjamin Franklin
---
Warning:
The hooks are sharp.
The coffee's hot.
The fish are slippery when wet.

---