Discovering Tenkara DVDs

Watching the Discovering Tenkara DVD series is like going to Japan and hanging out with tenkara masters - without leaving home.
Imagine embarking on a quest to learn the truth about Japanese tenkara flies. After traveling halfway around the world, pushing deep into the interior, fording streams, climbing steep ravines, you finally arrive at a mountain hut. The man you had come to see, sitting cross-legged on a grass mat looks you in the eye and says "the fly doesn't matter."
That's not what happened. Not at all. When Paul Gaskell and John Pearson made the trek to Japan they learned the fly does indeed matter. Not only are there are many different tenkara flies, different flies were designed to be fished in different ways.
Some have long hackles. Some have short hackles. Some have soft hackles and some have stiff hackles. Some have reversed (sakasa) hackles and some don't. It's not by accident.


Stiff, Short Hackle Flies - Discovering Tenkara Vol. 3
Much of what we think we know about tenkara flies is not quite accurate. Some things have gotten lost in translation, some information has been misinterpreted, and a lot of what we read is written by people who have no direct knowledge - repeating (or paraphrasing) what they themselves have read. If you want to know the truth you have to go to the source. Paul and John went to the source.

The only way you could get the information and insights contained in the three Discovering Tenkara DVDs and their companion 418 page e-book would be to make the trek to Japan yourself.
Of course, that assumes you could get the same stream time and tying time that Paul and John did. That access (and camaradarie) comes from not one but several trips to Japan - plus, those friendships and introductions take much more than just time and cannot easily be duplicated.
The only way you can be assured of getting the same invitations, the same interviews and the same insights that Paul and John got is to go with them. The Discovering Tenkara DVDs allow you to do just that (not to mention saving you thousands of dollars in travel expenses).
The professionally filmed DVDs are $25.00 each or all three for $70. These are the NTSC versions for the US and Canada.

(Canadian shipments require additional postage, please see shipping section below.)

---
Discovering Tenkara Vol. 1

An Introduction to Tenkara
Basics & Fundamentals

The first DVD in the series, An Introduction to Tenkara, Basics and Fundamentals, was filmed in the UK when Paul and John hosted Dr. Ishigaki on his trip to England. There are scenes with Dr. Ishigaki on stream including one in which he explains why you should fish short drifts and another in which he reveals his secret fly - which I don't believe anyone in the West had known about previously).
Other scenes include fishing tenkara with a dry fly, fishing Japanese wet flies, tenkara and fish location, tenkara casting (including casting into the wind and casting long lines).

The excellent on-stream demonstrations and descriptions - in English - will benefit just about any tenkara angler. Most people (myself included) would be much further along and would have much better form if they had seen this DVD and learned these lessons before ever picking up a tenkara rod. This DVD truly does cover the basics and fundamentals, providing a solid foundation on which to build your tenkara skills.

John Pearson's fly first cast.
From the back cover: Join the Discover Tenkara Team together with Japan's foremost tenkara expert - Dr. Hisao Ishigaki - for a look at the fundamental elements of this beautiful and effective fly fishing tradition. Born in the mountain streams of Japan, tenkara is now a global pastime attracting novices and seasoned fly anglers like.
Filmed on picturesque British upland streams and presented by the UK's first certified Tenkara Guides - Paul Gaskell and John Pearson - this volume demonstrates key elements of the method that is "Japanese tenkara" - its history, philosophy, equipment and flies. Tenkara's simplicity brings with it both familiar and unfamiliar concepts that will be of use to all fly anglers.
Be sure to watch the bonus footage! In the first bonus section, Paul demonstrates the effectiveness of a simple kebari by tying a fly in hand sitting at the streambank, and then catching several fish with it just minutes later. The second bonus section illustrates an important point that is rarely mentioned. As much as I write about watching your hi-vis line for hesitations or twitches, if you fish an unweighted wet fly, which will generally be in the top few inches of the water column, you can often see the take. Even if you can't see the fly, you know it is a fixed length beyond the end of your line, and you know where the end of your line is. By watching the water about where the fly should be, you will often see the flash of a fish before the line registers anything at all, and long before you could possibly feel anything. The segment plays back all the takes in slow motion, and it becomes obvious that reacting to the flash is much faster than reacting to the line moving. This is a gem!

---
Discovering Tenkara Vol. 2

Japanese Kebari
Patterns & Principles

The second DVD was filmed in Japan and introduces the elements of tenkara fly design. Some aspects of fly design are important and some aren't. Before you get too deeply into tying tenkara flies, you might want to know what is important (to the fish)!

Dr. Ishigaki, whose academic field is the study of vision, knows quite a bit about fish vision and how it is different from our own. He explains quite clearly what is important in kebari design - and what isn't.

You will also learn that what we all know of as the Takayama Sakasa Kebari, perhaps should be called "a" rather than "the."  There are other flies that were traditionally used in and around Takayama. Why we don't use them here is a mystery to me. My "Little Dark Kebari" with which I have caught many fish, is a close copy of another Takayama fly.

There is an excellent interview with Go Ishii, in which he wonders why people have to name their flies. Had I been there, I might have suggested that if you want to refer to a specific fly it is easier if it has a name than having to say "that fly I wrote about a couple years ago, the one with a starling hackle and a black wool body and it was tied on a Daiichi 1530 hook."
To Japanese tenkara anglers, though, their flies - all their flies - are just "kebari."
Perhaps no one ever asks "Hey, what fly did you catch that on?"

"A kebari."
"Ah, OK. Thanks."

That is one of the unique values of this DVD series. Paul and John sit down with Japanese tenkara anglers and they do ask questions - questions you'd like to ask but can't.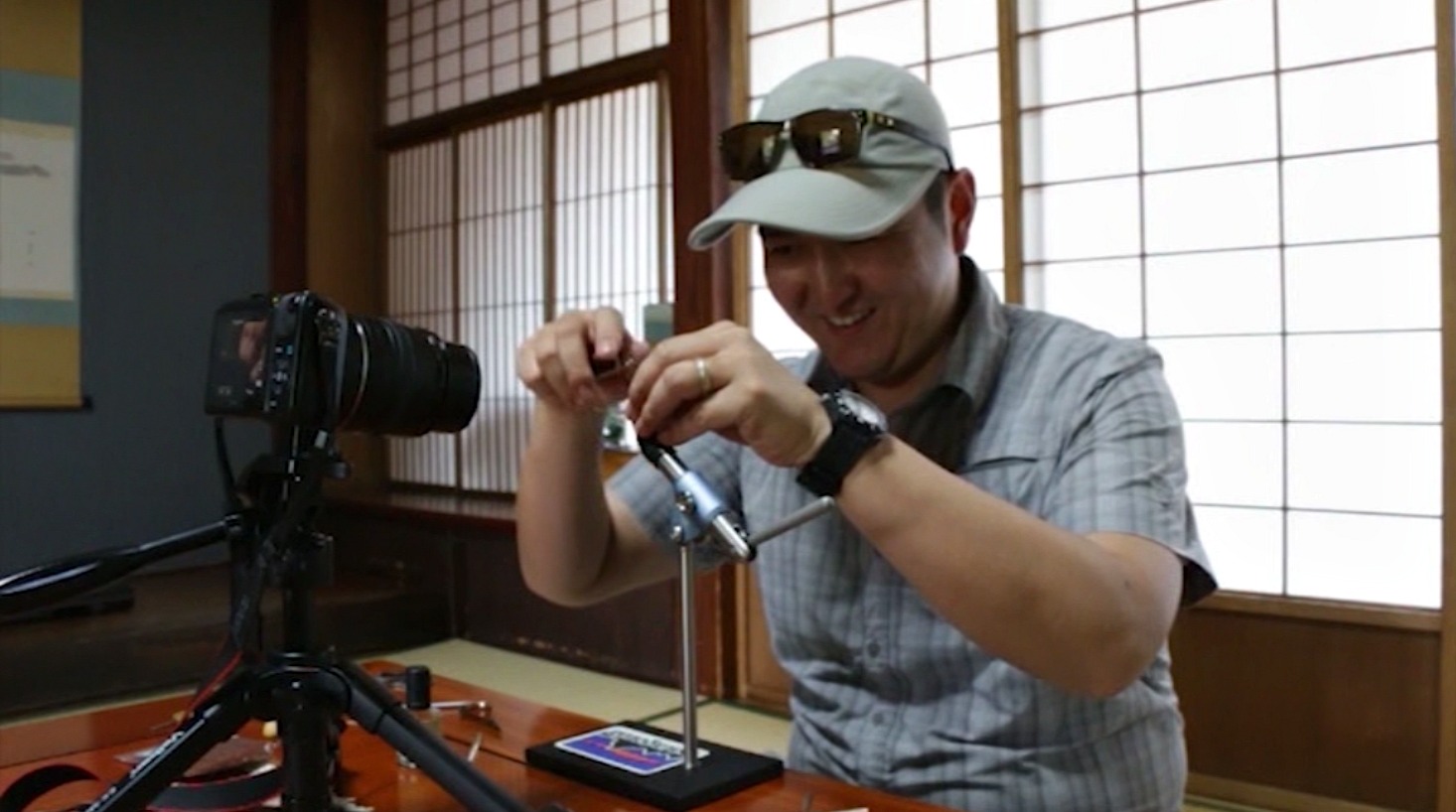 You came all the way from England to ask that question?
This is the DVD in which Go Ishii says to Paul and John "You came all the way from England to ask that question?" He was joking when he said it, and he was actually paraphrasing what someone else might say, but it does underscore that you need to be able to sit down and talk with someone, to have a give and take, to ask follow up questions, in order to really understand each other when perhaps the words make sense but the whole premise behind the question doesn't. That is especially true when there are cultural differences, and there truly are cultural differences with respect to fly design!
I really don't want to sound like I am picking on Go Ishii. He is a huge reason this whole project works and works very well. His knowledge of tenkara is extensive and his English is perfect. He not only knows, he knows how to explain!

Early in the DVD, Dr. Ishigaki explains why his very simple kebari is able to catch fish for him in England and America in addition to Japan. That is quite a contrast from the earliest accounts of tenkara in Japan from the 1870's, in which it was said that the flies the British anglers had brought did not work in the rough and tumble Japanese mountain streams.
John sums up the lessons of this DVD in his closing comment "These simple, elegantly efficient patterns seem to tap into the key triggers that attract trout anywhere in the world."
From the back cover: Join the Discover Tenkara team on a journey that has taken us from our earliest experiments in kebari fly tying to the mountains of Japan were we learn from the experts about the history, culture, philosophies and principles behind tenkara's fishing flies.
Featuring John Pearson and Paul Gaskell with in depth interviews and fly tying sequences from Dr. Ishigaki, Masami (Tenkara no Oni) Sakakibara, Hirata san, Go Ishii and Makino (Himano) san.

---
Discovering Tenkara Vol. 3

Japanese Kebari
Practical Fishing Applications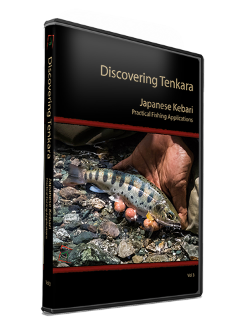 The third volume of the Discovering Tenkara DVD set really gets into the details of kebari design. There is a common impression in the West that many Japanese tenkara anglers use only one fly all the time. This DVD clearly explains why you might not want to do that - or rather, why you would probably catch more fish if you choose your fly based on the water you are fishing, on whether the fish are actively feeding and perhaps even based on your own particular tenkara style (an angler who often fishes downstream might want a different fly than an angler who only fishes upstream or up and across).

In a series of revealing interviews, tenkara anglers explain why they might choose a small dark fly or a larger cream colored fly, and why they tie some flies with stiff rooster hackle and other flies with softer hen or hen pheasant hackle. Go Ishii tells why he might use a weighted fly in the winter but not in the summer, while Masami Sakakibara would use an unweighted fly even in the winter - and even when a weighted fly might catch more fish.

There is quite a wide variety of tenkara flies, and as with western flies, it might make sense to choose different ones for different purposes or in different conditions (which even Dr. Ishigaki does)!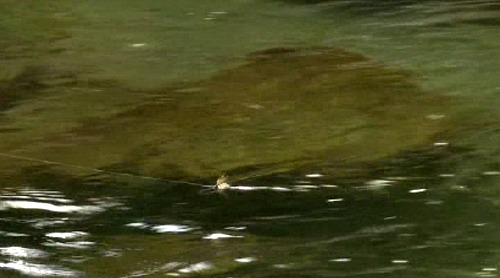 Himano san's downstream presentation - skating a stiff hackled fly.
From the back cover: The ultimate guide to designing, tying, selecting and fishing authentic tenkara flies. Join Dr. Paul Gaskell and John Person along with top Japanese tenkara anglers Kazumi Saigo, Kazuo Kurahashi, Go Ishii, Tadashi Otani and Shoichi Saito to discover the secrets, traditions and sheer pleasure of understanding "kebari" - the fishing flies of Japan.
Together with Discovering Tenkara Volume 2 DVD and the E-book "Discovering Kebari: Choosing & Using Flies That Catch Fish" - this is an unparalleled guide to the secrets of successful fly fishing in flowing water. You will learn new skills that will be invaluable on your home trout streams - wherever you are in the world.

---
Discovering Tenkara DVDs

Discovering Tenkara All 3 DVDs- $70.00
Discovering Tenkara DVD Vol.1 - $25.00
Discovering Tenkara DVD Vol.2 - $25.00
Discovering Tenkara DVD Vol. 3 - $25.00

---
Discovering Kebari:

Choosing & Using Flies That Catch Fish

Discovering Kebari - Choosing and Using Flies That Catch Fish
(iPad not included)
The Discovering Kebari - Choosing and Using Flies That Catch Fish provides such comprehensive coverage of Japanese tenkara flies and how they are used that the simplest thing to do is just show you the table of contents.
The first section covers a few key elements of tenkara fly design, including the differences between Sakasa Kebari, the familiar forward sweeping hackle style, and Jun Kebari, the even more familiar (to us in the West) perpendicular or backward sweeping hackle styles that could easily pass for Western dry flies or wet flies.
The second section covers fish feeding behavior (you just can't have a book written by a guy with a PhD in Biology that doesn't dip into the biology of the subject matter). The biology, though, does underscore the entire DVD and ebook series - after all, we are trying to trigger a biological response (Eat my fly!).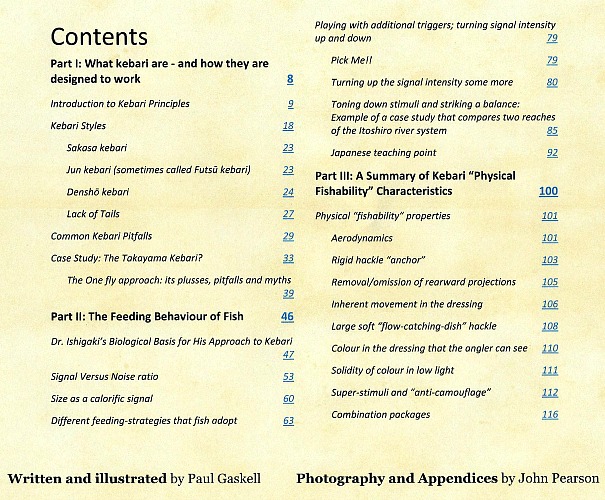 The third section is a much closer look at specific design elements, examining among other topics why you would want to use a sakasa kebari in some cases and a jun kebari in others, and why kebari traditionally do not have tails, which are a central design element for so many Western flies.
The fourth section explains in detail how the flies are actually fished - including weighted flies - which you never seem to hear about with respect to tenkara. Various techniques for fishing upstream, downstream and across the stream are presented. Techniques for using the current to take your fly directly to the fish and even for using a breeze to take your fly directly to the fish are discussed. You probably always thought that the wind was your enemy, but you can use it to your advantage!

The fifth section ties it all together and presents what Paul calls "The Secret of All Fly Fishing." And he's almost certainly right! Ignore it at your peril.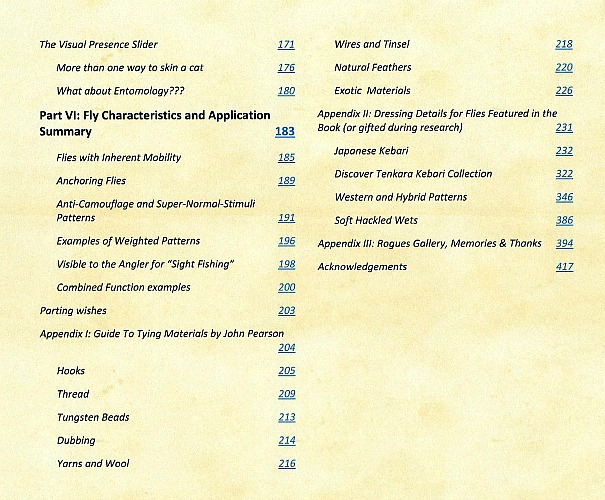 The sixth section summarizes fly characteristics and applications.
The appendix provides a guide to tying materials and the dressings for the flies that are featured in the book.
Altogether, the Discovering Kebari e-book is a tremendous amount of accumulated knowledge that for all practical purposes would not be possible to acquire any other way. It's $21.87 - which is less than a tank of gas - and not even round-off error for calculating the cost of a trip to Japan to learn the techniques yourself. What is your limited time on stream worth to you? What would catching more fish be worth? The book is a bargain.
Discovering Kebari:
Choosing and Using Flies that Catch Fish
$21.87
Download the e-book by clicking on this link to Gumroad (which is the service that Paul and John chose to provide their e-book).
Discovering Kebari: Choosing and Using Flies that Catch Fish
---
Tenkara Manipulations

While the DVDs and the Choosing and Using Flies that Catch Fish ebook provide excellent information on Japanese Kabari and insights into how they are fished, there is an element of tenkara that deserves considerably more coverage. That element is fly manipulation and it is absolutely central to Japanese tenkara.
I have written pages and pages on how tenkara will allow much better presentations than western fly fishing. I have stressed that the long rod and light line allow you to keep the line off the surface. This yields better drag-free drifts - which in turn produce more fish.
However, I have not spent much time at all on fly manipulation, which effectively picks up where drag-free drifts leave off. Fish that don't hit your fly on a drag-free drift can sometimes be coaxed into striking a moving fly. Not dragging - but moving just enough to suggest life. If you watch any YouTube videos of Japanese tenkara anglers, you will see them manipulating their flies - but not on every drift!

Paul and John have put together an excellent video and ebook on fly manipulation, based on what they have learned in Japan from Japanese experts. It is by far the best coverage of the subject in English, and learning these techniques will greatly improve your understanding of tenkara and your ability to catch fish.
The importance of fly manipulation was driven home one day when I fished with Adam K shortly after he returned from a trip to Japan. He was catching fish regularly and I hadn't had a bite. At our lunch break he told me how he had been manipulating his fly - something he had learned in Japan. After lunch I followed his instruction and started catching fish. 

The Tenkara Manipulations Bundle (the video and the accompanying ebook together) is $29.99. They have offered a 10% discount to TenkaraBum.com readers so enter tb10 in the Offer Code box to claim your 10% discount. If what you learn saves just one trip from being a skunking (and I'm confident it will), it's  worth it.
Tenkara Manipulations Bundle
$29.99 (before discount)
Download the video and ebook by clicking on this link to Gumroad (which is the service that Paul and John chose to provide their e-book).
Tenkara Manipulations Bundle
---
Shipping
A standard shipping charge of $4 will be added to all orders for DVDs. Canadian shipments require additional postage of $6. Please click the button below to add postage to Canada.

The Discovering Tenkara e-book and Manipulations downloads do not have a shipping charge.


Additional postage to Canada - $6
Payment
Payment for the DVDs is processed by PayPal but you don't need to have a PayPal account. You can use your credit card.
Payment for the e-book is processed by Gumroad.

---
TenkaraBum Home > Books and DVDs > Discovering Tenkara DVDs


Walk softly and carry a long stick. - Teddy Roosevelt (almost)

"The bitterness of poor quality remains long after the sweetness of low price is forgotten" – Benjamin Franklin
---
Warning:
The hooks are sharp.
The coffee's hot.
The fish are slippery when wet.

---