Discovering Tenkara DVDs

All three DVDs are sold out and are no longer available.

---
Discovering Kebari:

Choosing & Using Flies That Catch Fish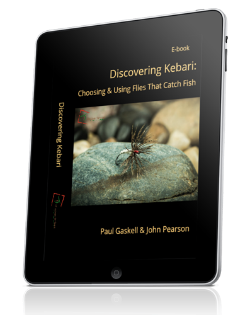 Discovering Kebari - Choosing and Using Flies That Catch Fish
(iPad not included)
The Discovering Kebari - Choosing and Using Flies That Catch Fish provides such comprehensive coverage of Japanese tenkara flies and how they are used that the simplest thing to do is just show you the table of contents.
The first section covers a few key elements of tenkara fly design, including the differences between Sakasa Kebari, the familiar forward sweeping hackle style, and Jun Kebari, the even more familiar (to us in the West) perpendicular or backward sweeping hackle styles that could easily pass for Western dry flies or wet flies.
The second section covers fish feeding behavior (you just can't have a book written by a guy with a PhD in Biology that doesn't dip into the biology of the subject matter). The biology, though, does underscore the entire DVD and ebook series - after all, we are trying to trigger a biological response (Eat my fly!).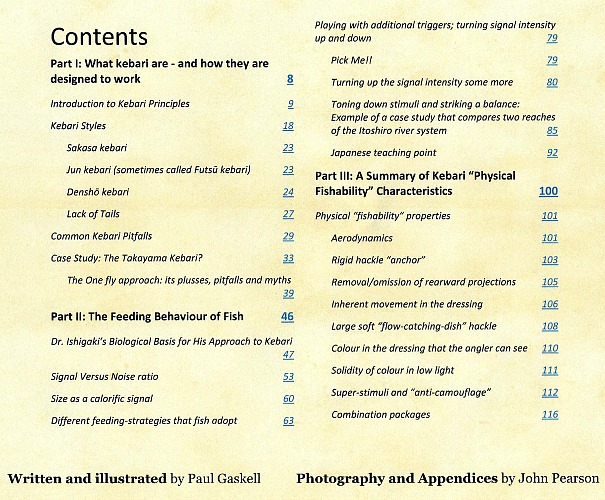 The third section is a much closer look at specific design elements, examining among other topics why you would want to use a sakasa kebari in some cases and a jun kebari in others, and why kebari traditionally do not have tails, which are a central design element for so many Western flies.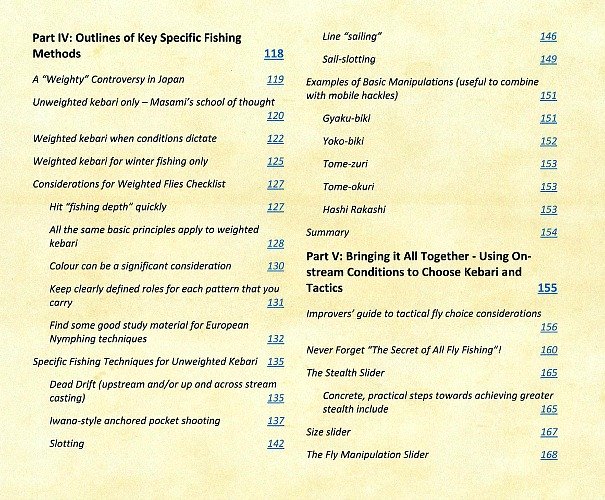 The fourth section explains in detail how the flies are actually fished - including weighted flies - which you never seem to hear about with respect to tenkara. Various techniques for fishing upstream, downstream and across the stream are presented. Techniques for using the current to take your fly directly to the fish and even for using a breeze to take your fly directly to the fish are discussed. You probably always thought that the wind was your enemy, but you can use it to your advantage!

The fifth section ties it all together and presents what Paul calls "The Secret of All Fly Fishing." And he's almost certainly right! Ignore it at your peril.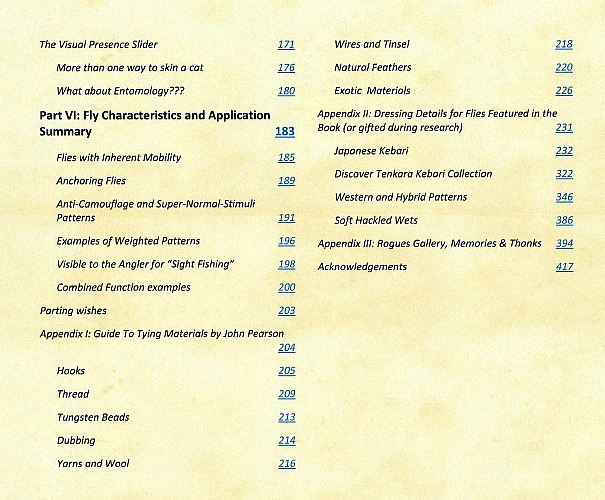 The sixth section summarizes fly characteristics and applications.
The appendix provides a guide to tying materials and the dressings for the flies that are featured in the book.
Altogether, the Discovering Kebari e-book is a tremendous amount of accumulated knowledge that for all practical purposes would not be possible to acquire any other way. It's $21.87 - which is less than a tank of gas - and not even round-off error for calculating the cost of a trip to Japan to learn the techniques yourself. What is your limited time on stream worth to you? What would catching more fish be worth? The book is a bargain.
Discovering Kebari:
Choosing and Using Flies that Catch Fish
$21.87
Download the e-book by clicking on this link to Gumroad (which is the service that Paul and John chose to provide their e-book).
Discovering Kebari: Choosing and Using Flies that Catch Fish
---
Shipping
The Discovering Tenkara e-book and Manipulations downloads do not have a shipping charge.

Payment
Payment for the e-book is processed by Gumroad.

---
TenkaraBum Home > Books and DVDs > Discovering Tenkara DVDs

---
"The bitterness of poor quality remains long after the sweetness of low price is forgotten" – Benjamin Franklin
"Study to be quiet." - Izaak Walton 1653

"Be sure in casting, that your fly fall first into the water, for if the line fall first, it scares or frightens the fish..." Col. Robert Venables 1662

---
Warning:
The hooks are sharp.
The coffee's hot.
The fish are slippery when wet.
Beware of the Dogma

---