Daiwa Tenkara Starter Kit
The Daiwa Tenkara Starter Kit is sold out (and will not be back in stock before Christmas). I would recommend the Nissin Starter Kit in its place.

---
The Daiwa Tenkara Starter Kit is built around the NEO tenkara rods, which are Daiwa's starter rods. Despite being "starter" rods, these are really very nice rods. The NEO rods come in two different types - rods designed for level lines (LL) and rods designed for use with either level or tapered lines (LT). The two are quite different.
The Daiwa NEO LL32SC is a relatively soft, smooth casting, full flex rod that is just ideal for casting unweighted wets or dries on light lines. The Daiwa NEO LT33SC, on the other hand, is a firm 7:3 rod that is the nicest tenkara rod I've found, regardless of price, for fishing weighted nymphs.
In addition to the rod, the Daiwa Tenkara Starter kit contains a spool of Sunline fluorescent orange fluorocarbon level line and two tenkara line holders. The LL kit, which is built around the LL32SC rod, contains size 3 line; while the LT kit, built around the LT33SC rod, contains size 4 line. Both kits include two line holders to allow anglers to cut and store a shorter line for fishing smaller streams and a longer line for fishing wider rivers and lakes.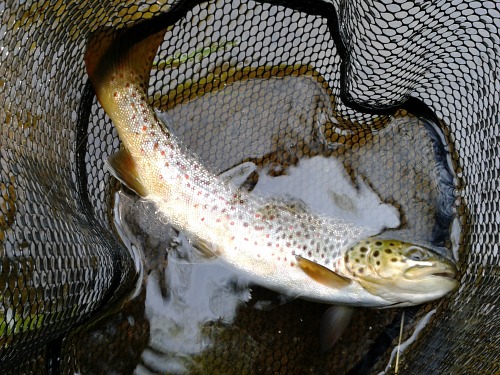 Not bad for the first time out with a new rod.

Of the various rods included in the tenkara starter kits offered on TenkaraBum, the Daiwa LL32SC is the only 5:5 rod and is the most full flex. If your preference in fly rods runs to glass or grass (bamboo), then you will probably prefer the Daiwa LL32SC over the Nissin, Shimano and Shimotsuke rods.
If your primary interest in tenkara is for nymphing, then the Daiwa LT33SC is very definitely the rod for you. The Shimano and Shimotsuke rods are more all around and the Nissin is probably more true to the traditional fishing of unweighted wet flies, but the Daiwa is just a wonderful rod for fishing weighted nymphs. The rod is stiff enough to give you good hook sets when fishing deep and in current, something most tenkara rods do not do at all well.
One other nice feature about the Daiwa NEO LT33SC is that it collapses to just 16 3/4", so it will fit completely within most daypacks. There are keiryu rods that collapse to shorter lengths, but I am not aware of any tenkara rods that do. 

The two rods are very different, but the Daiwa Tenkara Starter kit offers options that are a bit different than any of the other kits.

Daiwa NEO Tenkara Rod Features

The tip plug is virtually identical to the plugs on the high end Enshou series - a wood and rubber plug with sufficient fluting to insert the plug  while keeping your line attached to the rod. The plugs are snug fitting and are not going to slide out by themselves.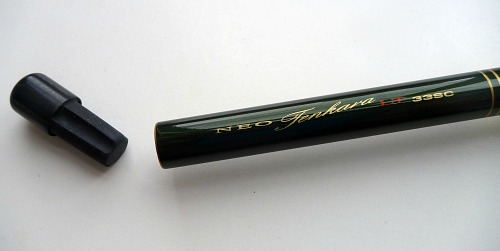 The rods are a finished in a very nice green color, with just enough accents to be classy without being gaudy.
The grip screw cap is metal and has a coin slot for tightening or loosening. When tightened, the outside flange of the cap butts up against the cork of the grip, which should keep it from being lost while you are on the stream. The cap also has a rubber insert to keep the rod from making the clacking noise some rods do when collapsed. There is no ventilation hole but even if it had one I would recommend fully disassembling the rod after use so it can dry thoroughly.
Daiwa NEO LL32SC
Length extended 10'6"
Length collapsed - 19 3/8"
Weight (without tip cap) - 2.6 oz
Sections - 8
Pennies - 16

Daiwa NEO LT33SC
Length extended - 10'9"
Length collapsed - 16 3/4"
Weight (without tip cap) - 3.0 oz
Sections - 10
Pennies - 28
On balance, the Daiwa Tenkara Starter Kit offers two very nice but very different tenkara rods - and tenkara experiences. The LL kit offers a smooth casting rod specifically designed for level lines, while the LT kit offers the best tenkara rod out there for fishing nymphs.
Out of stock

Daiwa Tenkara Starter Kit - $209
Rods made in China
For every kit sold, more than $11 will go to fisheries conservation.

---
International shipments require additional postage, which is not added automatically. Please see International Shipments section below.
---
Tenkara Flies

Unlike most of the tenkara flies you can buy over the internet, the tenkara flies offered on TenkaraBum.com were not tied in Kenya. They were tied right here in the U S of A. The flies are $7.50 for three flies and are available in several patterns (not all patterns will be in stock all the time).
Tippet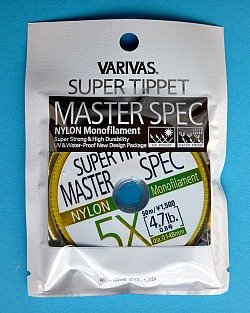 If you don't already have tippet (or if you need more) I can highly recommend the Varivas Super Tippet Master Spec. It is premium tippet, made in Japan, and comes on 50 meter spools. For the LL32SC (as well as most tenkara rods) I would recommend 5X. You can probably get away with 4X on the LT33SC.

Varivas Super Tippet - $14
Streamside Tools

For complete beginners, who do not already fly fish, there are a few other things that you will need. You will need a pair of nippers for cutting tippet and for trimming the tag ends of knots. You will need a pair of hemostats because at least one of the fish you catch will be small enough that you won't be able to get your fingers in its mouth to remove the fly. (More than one, more than likely - possibly even most of them if you fish for bluegills.) You won't absolutely need, but you will absolutely appreciate having a zinger to keep your nippers handy.
| | |
| --- | --- |
| | Dr. Slick Spring Creek Curved Clamp - $14 |
| | C&F 2 in 1 Retractor - $15 |
| | Nippers - $5 |
Rod Case

None of the Japanese rod companies provide a hard case with their rods.  They sell cases - very nice and very, very expensive. I have chosen instead to sell cases that are very basic and very inexpensive, which I learned about from a Japanese tenkara angler. The case weighs just 2.3 ounces and costs just $10.
Medium Rod Case - $10
---
Payment
Payment is through PayPal but you don't need to have a PayPal account. You can use your credit card.
Domestic Shipping

Shipping to the US is $10, via USPS Priority Mail (2-3 day delivery). The shipping charge will be added to your order automatically.
International Shipping

International shipping requires an additional $6 to Canada or $13 to other countries. The charge is not added automatically, so please click on the appropriate button. Shipment is by USPS International First Class. Delivery times vary by country but range from two weeks to over a month.
---
TenkaraBum Home > Tenkara Starter Kits > Daiwa Tenkara Starter Kit

Walk softly and carry a long stick. - Teddy Roosevelt (almost)

Tenkara has no strict rules. Enjoy tenkara in your own way.
- Eiji Yamakawa
"The bitterness of poor quality remains long after the sweetness of low price is forgotten" – Benjamin Franklin
---
Warning:
The hooks are sharp.
The coffee's hot.
The fish are slippery when wet.

---