Daiwa Kiyose 43M
by Rob Ruff
(Wichita Falls, TX )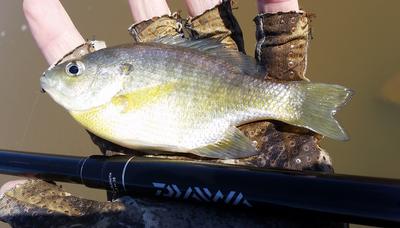 Some photos of the fish I've caught with this rod. Plenty of backbone for fishing deeper water, 3 feet or more. I used a glass bead kebari and a nickel finish brass bead kebari for these fish. I caught one 12" rainbow which put somewhat of a bend in the rod. This rod is definitely more suited to larger fish. I plan on taking this rod to Bozeman MT in September for my trip there.
Walk softly and carry a long stick. - Teddy Roosevelt (almost)

"The bitterness of poor quality remains long after the sweetness of low price is forgotten" – Benjamin Franklin
---
Warning:
The hooks are sharp.
The coffee's hot.
The fish are slippery when wet.

---