---
Please Note: PayPal is having a problem with the Handling Charge, which should be $4 for every order. For some reason, a few orders are not getting the charge. I have contacted PayPal, but until the problem is corrected I will send a PayPal invoice following any order that does not reflect the $4 handling charge.
When you place your order, please look at the PayPal shopping cart contents to see if the $4 Handling charge is included. If not, please click on the button below. That will make a separate PayPal invoice unnecessary (saving time for both of us).
Handling charge - $4
---
Daiwa Keiryu 42SF spring carp fishing
by Eric Kol
(Mpls, MN)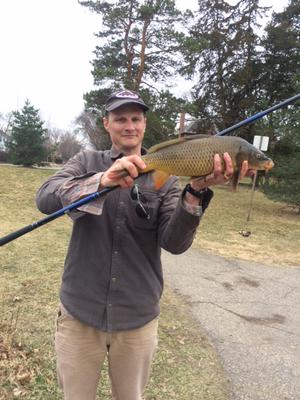 42SF carp
Got a chance to break in my new 42SF. We have had an early spring here in Minneapolis, MN. There is still ice in the northern 1/4 of the state as of 3/26/16. I have been scouting my local ponds since ice out two weeks ago.

Last night while walking by this pond, just before dark, I saw the first tailing carp of the season. This morning while the sun was just peaking out through the overcast, I spotted my carp taking items from the surface. I had stopped for a small baguette on the way and began throwing in small pieces to keep them nearby while I rigged the rod with a new 4 level line (as long as the rod) and 3ft of 5x tippet. I tied on a size "4" keiryu hook (not sure the western equavalent). These are wonderful light wire hooks and approx size 10-12 compared to a western hook.

I used a small piece of bread with the crust, hook just protruding through the crust. This way the bread will stay on while casting, and stay more firm on the hook while floating on the surface. These fish were line shy, and though they were taking free bread, they were not doing so carelessly. I was able to position the bread in front of several good looking carp - until the magic slurp I had been trying to make happen, happened.

This rod is all I hoped it would be..... and as fun to fish as its little brother, the 30SF. Though the carp I tangled with today did not exceed 5lbs, not for a second did I feel that I was outgunned. I will continue to use 5x tippet until I can determine the upper limit of what the rod is capable of. I fished weighted woolly worm/bugger type fly and a small deer hair fly in addition to the bread. Like the 30SF, this rod handled it all and did it well.

Walk softly and carry a long stick. - Teddy Roosevelt (almost)

Tenkara has no strict rules. Enjoy tenkara in your own way.
- Eiji Yamakawa
"The bitterness of poor quality remains long after the sweetness of low price is forgotten" – Benjamin Franklin