Daiwa Hinata Chutsugi
The Daiwa Hinata Chutsugi rods are short zoom rods that are just ideal for very small streams. They come in three lengths. The shortest one can be fished at 6'8" or 7'11". The medium one can be fished at 7'11" or 9'2". The longest one can be fished at 9'2" or 10'6".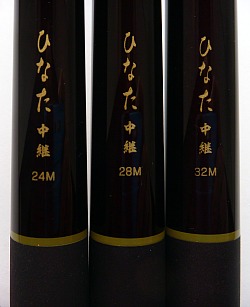 I know a number of tenkara anglers who are probably now drooling at the thought of zoom rods in those lengths, but there's a catch. They're stiff! They have the same penny ratings as the Daiwa Kiyose rods of the same length. The bend profile is completely different, though.
The Daiwa Hinata Chutsugi rods are definitely tip flex rods! The tips are soft, but the rods stiffen up quickly. The rods are bait fishing rods intended for a number of small fish species, but also for small crucian carp.
The soft tip will still dance with a small fish, but the firm midsection and stiff butt will allow you to land surprisingly large fish - the longer two rods will certainly handle larger fish than the shortest, but I am confident that even the shortest handle fish larger than 12" without a problem. The longer ones can handle fish substantially larger than that.

Daiwa Hinata Chutsugi 32M
Daiwa does not publish a recommended maximum tippet strength for the Hinata Chutsugi. I would think that 5X tippet would be a reasonable guideline.

Even though these are pretty stiff rods, you can cast a tenkara line with them if you wish. Shortly after receiving them I rigged the shortest one with 7 feet of size 3 line and it cast it like a bullet. It requires a short, sharp casting stroke, but you can do it.

I've only been able to fish the rods once, on a couple small streams  in New Jersey. I fished the shortest one on the smaller of the two streams with a size 3 line and a CDC & Elk. It was effective. It's not my favorite short rod (that would be the Nissin Air Stage Hakubai 190 medium) but if you do want the zoom function, this is the shortest rod I know of that has it. With a short, abrupt cast, it works but it doesn't have the smoothness of a tenkara rod.
However, when fishing with an indicator and a tungsten bead head nymph, as I did with the two longer rods on the larger of the two streams, the rods work just fine. Use an underhand pendulum cast or a soft sidearm lob. It won't remind you of the casting scenes in A River Runs Through It, but it is effective. The rods have all the backbone you would want to get good hook sets. They'd also do just fine with a Nakazima float, a split shot and a Mummy Worm, although the streams we were on were artificials only so I couldn't try it.
The longest one would work well as a short Czech Nymphing rod. The shorter two are really a bit too short unless the stream is fairly narrow, fairly deep and the fish are not spooked by your presence.

Over the years, I have had a number of people ask me for short, fairly stiff rods for fishing heavy nymphs (or worms) in narrow streams. Fishing with a small float, a split shot and bait in small streams is exactly what these rods were designed for, and I'm sure they are really very good at it.
The glass content is pretty high, making these rods much less likely to break than most tenkara rods. If you want a rod for young kids who will be fishing with bait and a bobber, or a fly under an indicator, these rods would be a reasonable choice. If you want to teach your kids fly casting, though, look elsewhere.
I recently had a request for a rod recommendation for a seriously small stream that had seriously nice trout. In that situation, my first thought is usually a Daiwa Keiryu-X. However, the angler wanted to fish dries and the Keiryu-X is not the best dry fly rod. That made me think of the Nissin Kosansui 270. He thought of it too and reported that it just wasn't quite beefy enough for the fish. Given those requirements, I think the Daiwa Chutsugi would be his best choice. It is a short rod that can handle nice fish and will cast a dry fly better than the Kieiryu-X.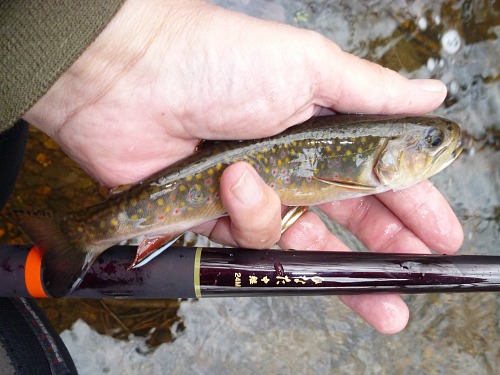 Daiwa Hinata Chutsugi 24M
Daiwa Hinata Chutsugi Features

The Daiwa Hinata Chutsugi rods share a number of features with Daiwa's high end rods. The lillian (which is probably the shortest lillian I have ever seen at about 1") is attached with a swivel.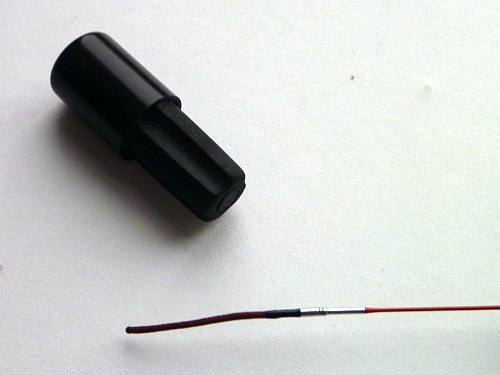 The tip plug is fluted, just like the tip plugs on the Daiwa Expert Tenkara rods. You can insert the tip plug while the line is attached and the rod is collapsed, which greatly reduces the chance of the tip breaking when the rod is strapped to your backpack or is in the back seat of your car.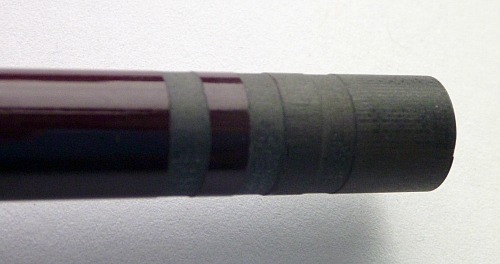 The Daiwa Hinata Chutsugi has rings machined into the butt ends of each section (other than the tip and grip). This feature greatly reduces the chances of getting a stuck section. It is found on high-end Daiwa rods but not on the rods of any other manufacturer.

The Daiwa Hinata tanago rods have orange accents. The Daiwa Hinata Chutsugi ups the volume - a lot. The grip section has orange bands, the ends of each section have orange accents and the entire tip section is orange.

Model
Extended
Collapsed
Weight*
Sections
Carbon/Glass %
Pennies

24
6'8" - 7'11"
20 5/8"
1.8 oz
6
60/40
23 - 27

28
7'11" - 9'2"
20 5/8"
2.2 oz
7
60/40
27 - 33

32
9'2" - 10'6"
20 5/8"
2.6 oz
8
63/37
33 - 37
* Weight without tip plug.

Hinata Chutsugi 24
$150
Hinata Chutsugi 28
$160
Hinata Chutsugi 32
$170
Rods made in China

---
Shipping
A shipping charge of $10 will be added to all orders.
---
Payment
Payment is processed by PayPal but you don't need to have a PayPal account. You can use your credit card.
---
TenkaraBum Home > Rods > Daiwa Hinata Chutsugi

---
"The bitterness of poor quality remains long after the sweetness of low price is forgotten" – Benjamin Franklin
"Study to be quiet." - Izaak Walton 1653

"Be sure in casting, that your fly fall first into the water, for if the line fall first, it scares or frightens the fish..." Col. Robert Venables 1662

---
Warning:
The hooks are sharp.
The coffee's hot.
The fish are slippery when wet.
Beware of the Dogma

---