Cortland Indicator Mono

Cortland Indicator Mono is extremely visible, opaque, white or brightly colored nylon mono. It makes a great sighter for European nymphing and it will make great sighters for tenkara anglers who use them.

I have chosen to carry the Cortland Indicator Mono because I am convinced there will be a fusion of tenkara and European nymphing. This new and as yet unnamed discipline will not replace either tenkara or European nymphing. It will be a new style of fishing that will exist between the two well established methods and will blend elements of both.
Cortland Indicator Mono will be in the thick of it.

US anglers have been using tenkara rods to fish weighted nymphs for as long as there have been tenkara rods in the US. At first, they weren't entirely successful because the rods weren't designed for it.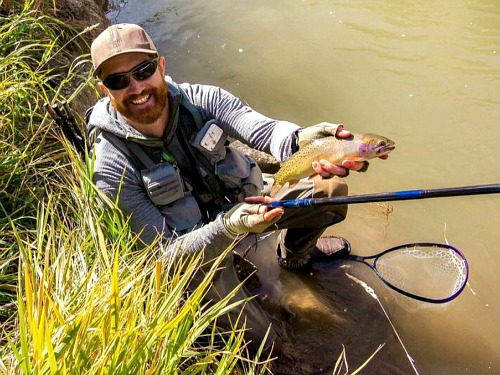 ERiK Ostrander with Daiwa Kiyose SF
Things got a lot better with the introduction of the Daiwa Kiyose SF rods to the US market in 2012 (subsequently replaced by the Keiryu-X rods). Unlike the tenkara rods which were then available, the Kiyose SF rods were stiff enough to get good hook sets when fishing weighted nymphs. Unfortunately, while they were great for fishing nymphs they were a bit too stiff for casting a very light line. To get the best performance, an angler needed one rod for fishing nymphs and a different rod for unweighted wets and for dries.

That problem was solved by the TenkaraBum 36, which was designed to fish with weight and also to cast as light a tenkara line as you can find. The TenkaraBum 40 provided the same dual-use capability in a longer rod, allowing you to keep a longer line off the water's surface.
In a complex system, and even something as simple as rod, line and fly is complex enough, when you improve one area - in this case the rod - one of the other areas may then provide the greatest potential for further improvements in the system as a whole.
Enter Cortland Indicator Mono. Cortland developed these lines for competition anglers who fish under the rules of FIPS Mouche (Federation Internationale de Peche Sportiv Mouche), which in English is the International Sport Fly Fishing Federation.  FIPS Mouche is the regulating body for international fly fishing competition.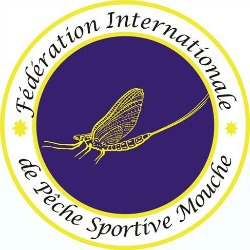 FIPS Mouche
However you feel about competitive fly fishing, I think you would have to agree that competition does yield improvements in gear and methods that allow an angler to catch more fish. You do not have to compete (or even approve of competitive fly fishing) to benefit from those improvements.
Of course, that is only if you want to catch more fish. If you fish only because you enjoy being in nature and don't care if you catch more fish, you can stop reading now.
(For that matter, if you don't care if you catch more fish, have you considered taking up birdwatching?)
Under the FIPS Mouche rules, anglers cannot use floating strike indicators attached to their line or leader. To signal strikes, anglers turned to in-line indicators, called "sighters", which are brightly colored sections of nylon mono built into their leaders.
In a sense, a tenkara angler's whole line is a sighter! It is brightly colored and is very effective in signalling strikes. Some tenkara anglers do use separate sighters, placed between their line and their tippet. This approach gives them the casting benefit of the denser fluorocarbon and the strike detection benefit of the more brightly colored nylon.

Cortland Indicator Mono
Super Yellow
For those anglers, the Cortland Indicator Mono in either Super Yellow or Bi-Color may be ideal. I know a lot of people use Sunset Amnesia, but it is readily available only in the 15# size, which is a thick .015" in diameter.
The Cortland Indicator Mono comes in different diameters, with the Super Yellow and Bi-Color coming in .012", .013" and .014" diameters. The Cortland Indicator Mono Opaque White comes in .011", .012" and .013".
The narrower diameter offered in the Cortland Indicator Mono Opaque White raises an interesting point. I suspect part of the reason competition anglers do not use hi-vis lines is concern that the brightly colored line might scare fish.
Paul Gaskell and John Pearson, in their excellent Discover Tenkara series of instructional DVDs and downloads, indicate that their catch rates improved by a whopping 70 percent when they modified their casting and fishing style to make sure that their brightly colored tenkara line never even touched the water's surface. Keeping the hi-vis line out of the water clearly yields a huge benefit. 
Cortland Indicator Mono
Opaque White
Rob Worthing of the Tenkara Guides takes it one step further (one huge step further) and is experimenting with clear or nearly clear lines when he fishes weighted nymphs, eliminating the hi-vis "tenkara" line altogether. He does use a sighter, but it is a white sighter, not a colored one.
Based on his results, he feels that a thin white sighter is less likely to alert fish than a thick, brightly colored one. At least for now, he has settled on the Opaque White Cortland Indicator Mono in the narrowest diameter, which he feels is the stealthiest sighter that still provides excellent strike detection.

A white line is hard for the fish to see with the sky as a background. A fluorescent chartreuse or orange or pink line is much easier to see. If you fish for highly pressured fish (as Rob does) it might matter.
I had never thought it did, as the first time I used the bright fluorescent orange Sunline I had one of my best days ever. However, I did note at the time that I felt that the stellar results were caused by improved strike detection. It is possible that the improvement in strike detection more than offset a negative effect from the colored line alerting the fish. I also noted at the time that my results were better if I kept the end of orange line above the water's surface.

I have fished the Fujino White Tenkara line several times and I do like it. I think it is harder for the fish to see against the sky than a colored line and is thus stealthier. I find it visible enough against the water's surface to give good strike detection. I'm a fan of white lines.

I have only fished a colorless tenkara line three times. The first time was a test of keiryu line indicators and a clear, colorless line for fishing weighted nymphs with a tenkara rod (Trip Report 12-12-15). I found it to work surprisingly well - but only with weighted flies or split shot.

The second time was in early April of this year after having an extended email exchange with Rob Worthing. I tested clear, colorless line (Varivas tippet material in 0X and -2X) with a section of the Opaque White Cortland Indicator Mono and also with keiryu indicators. I didn't catch any fish so I didn't write a trip report (I'm officially blaming extremely high water, although two long distance releases and one sloppy attempt at netting are probably the real reasons for the skunking.)
I can report, though, that the indicator mono was easy to see and did indicate strikes, while the keiyu markers did get wet and even the slight added weight when they were wet caused noticeable sag in the line. Because I was fishing a longer line than in my 12-12-15 Trip Report, the line was much less vertical and the line sag thus more noticeable.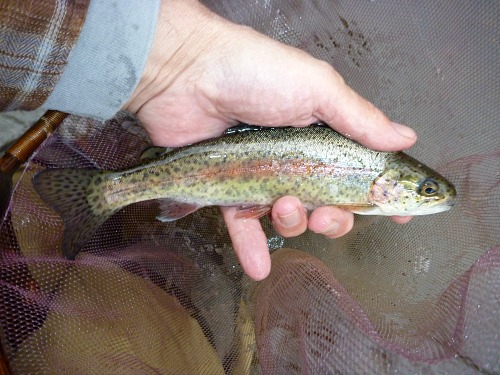 The third time I fished a tenkara line made from heavy tippet material was this past weekend. This time I did not use keiryu markers, and instead used the Opaque White Cortland Indicator Mono the entire day. It wasn't a "many" day, but it was still the best day I've had for the year to date.
On this trip I also tested something that Rob had mentioned about the Opaque White sighter. He had said that he could "bury" it (since it is water, maybe "sink" it would be more accurate) when he needed greater depth, and that A) it was still sufficiently visible to indicate a strike, and B) it didn't seem to scare the fish, because he did get strikes.
I can tell you, he is right on both counts! I did not often sink the sighter, as I had chosen a tippet length that was appropriate for most of the stream, and when I did sink it I kept the last half inch or so above the surface to make sure I could see it. On one take, the white sighter shot forward like an arrow and it was clearly visible under the surface.
Being able to sink the indicator and still get strikes gives you much the same advantage as the keiryu indicators, which are easy to move up the line when you want to get your fly or bait deeper. Having a 16" white sighter that can be held completely above the surface by perhaps a foot in shallow water, and sunk so that only an inch remains above the surface in deeper water gives you over two feet of depth adjustment without having to do anything at all but vary the height of your rod tip.
However, for pure keiryu fishing, with a much longer rod and more nearly vertical line, I do think the keiryu yarn markers make it easier to see subtle takes. Also, with the line more nearly vertical, it is easier to keep them dry and there is less line sag even if they do get wet. (When you hook a nice fish they will definitely get wet.)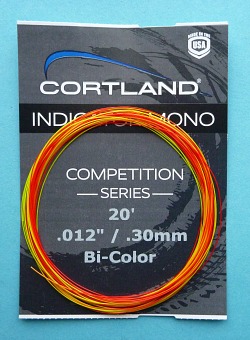 Cortland Indicator Mono
Bi-Color
I suspect that many people will prefer the Super Yellow or the Bi-Color Cortland Indicator Mono, which alternates red and yellow every 17 inches.
Both seem to be more popular among competition anglers than the Opaque White. I have not fished with either one of them yet, but I suspect they will be more visible against glare than the Opaque White.
On the whole, I am pretty excited about the Cortland Indicator Mono. I think it, together with stealthier lines and the TenkaraBum rods will play a big part in the fusion of tenkara and European nymphing that I am sure is coming.
The tenkara purists will say it isn't tenkara. The keiryu purists will say it isn't keiryu either, and the European nymphing purists will say it certainly isn't European nymphing. Fine (and Fie!)

It will not replace any of those fishing styles. It will be just another way to fish, but it will prove to be an extremely productive one. I think Takahashi san's 121 fish in the heavily pressured Itoshiro River using a blend of tenkara and Euronymphing techniques proves how productive it can be.
If you want to explore the still murky junction between tenkara and European nymphing, get some of the Cortland Indicator Mono and a spool of Varivas tippet in 1X (equivalent to size 2.5 tenkara line) 0X, (size 3), or -2X (size 4) and start experimenting. I think you'll be glad you did.
Cortland Indicator Mono (20' coils) - $8

Opaque White .011"
Out of stock
Opaque White .012"
Out of stock
Opaque White .013"
Super Yellow .012"
Out of stock
Super Yellow .013"
Super Yellow .014"
Bi-Color .012"
Out of stock
Bi-Color .013"
Bi-Color .014"
---
---
Shipping
Standard shipping is via USPS First Class mail.
A shipping/handling charge of $4 will be added to all orders.
If you live outside the US, you must add more postage!
---
Where do you live?


---

USA


Add this amount for shipping.


---

No additional postage required for First Class mail.
(Total charge $4)

---

Canada or Mexico


---

Additional $6 postage required. (Total charge $10)

---

Other Country


---

Additional $10 postage required. (Total charge $14)
---
---
Priority Mail Upgrade - U.S. Only

2-3 day shipping (U.S. only)
First Class might be just as fast!
Do Not click if you purchase a rod, wader gaiters or vise. They already go Priority Mail.
Domestic Priority Mail Upgrade - Additional $3
---
---
Payment
Payment is processed by PayPal but you don't need to have a PayPal account. You can use your credit card.
---
TenkaraBum Home > Tenkara Line > Cortland Indicator Mono


Walk softly and carry a long stick. - Teddy Roosevelt (almost)

Tenkara has no strict rules. Enjoy tenkara in your own way.
- Eiji Yamakawa
"The bitterness of poor quality remains long after the sweetness of low price is forgotten" – Benjamin Franklin
---
Warning:
The hooks are sharp.
The coffee's hot.
The fish are slippery when wet.

---