---
Please Note: PayPal is having a problem with the Handling Charge, which should be $4 for every order. For some reason, a few orders are not getting the charge. I have contacted PayPal, but until the problem is corrected I will send a PayPal invoice following any order that does not reflect the $4 handling charge.
When you place your order, please look at the PayPal shopping cart contents to see if the $4 Handling charge is included. If not, please click on the button below. That will make a separate PayPal invoice unnecessary (saving time for both of us).
Handling charge - $4
---
Camo Bandana
TenkaraBum Camo Bandana of Invisibility revealed!

Any gathering of tenkara anglers is likely to spawn a lot of good natured ribbing. Throw a couple keiryu anglers into the mix and it just spices things up a bit. The photo of Craig Thoreson and me with our 7 meter keiryu rods at the Midwest Tenkara Fest prompted a few comments, as could be expected. One mentioned that since I wasn't wearing camo - for once - he could finally see what I looked like.
I replied that I was actually wearing my camo bandana, which was a cross between Harry Potter's Cloak of Invisibility and a Klingon Cloaking Device, rendering the wearer invisible to fish, and that it had worked perfectly on that stream. Whether the results of the evening's fishing, in which yours truly easily outfished all the tenkara anglers present (combined!) was a result of the TenkaraBum Camo Bandana of Invisibility or just the perfect drifts and superior strike detection offered by a 7 meter rod (take that, doubters) will never be known. We won't mention for now that Craig Thoreson easily outfished me, but that might have been because he was wearing an extra-virgin olive TenkaraBum Cap (currently out of stock).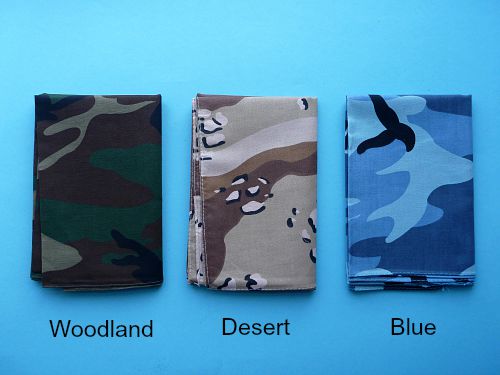 TenkaraBum Camo Bandanas of Invisibility
The TenkaraBum Camo Bandanas of Invisibility measure a full 26.375" by 26.375", yielding an amazing 695 square inches of invisibility (before shrinkage).
Made of 100% cotton, they will keep the sun off the back of your neck and can be dipped in the stream to provide 100% natural, sustainable and renewable evaporative cooling.
When folded as shown in the photo above, they can be used as pan holders (provided you are very quick and the pan isn't very hot).
Tenkarabum LLC will not be responsible for burned fingers or dropped pans, which will be prima facie evidence that you were not very quick and the pan was very hot. The TenkaraBum Camo Bandanas of Invisibility can be used as a bandage, though.

I am quite confident that you will find 1001 uses for the TenkaraBum Camo Bandanas of Invisibility, but I feel a duty to warn you that use as a signal flag is not one of them (it's that whole invisibility thing).
Choose the Woodland if you fish in streams surrounded by woodlands. Choose the Desert if you fish in the high deserts of Utah, Colorado, Montana, etc. (or if you want a stylish bandana to go with the 2015 Appalachian Tenkara Jam T-shirt).  Choose the Blue if you fish close enough that your background is the sky (particularly effective if there are clouds and crows). Collect the whole set.

TenkaraBum Camo Bandana of Invisibility - $4
Shipping
A shipping charge of $3 will be added to all orders.
---
Where do you live?


Add this amount for shipping.

---

USA


---

No additional postage required.
(Total charge $3)

---

Other Countries


---

Additional $5 postage required. (Total Charge $8)
If you also purchase a heavier item please add postage on that page instead of this page.
---
Payment
Payment is processed by PayPal but you don't need to have a PayPal account. You can use your credit card.
---
TenkaraBum Home > Tenkara Accessories > Camo Bandana


Walk softly and carry a long stick. - Teddy Roosevelt (almost)

Tenkara has no strict rules. Enjoy tenkara in your own way.
- Eiji Yamakawa
"The bitterness of poor quality remains long after the sweetness of low price is forgotten" – Benjamin Franklin