Blue Killer Bugger
by Mike Strother
(Arkansaw)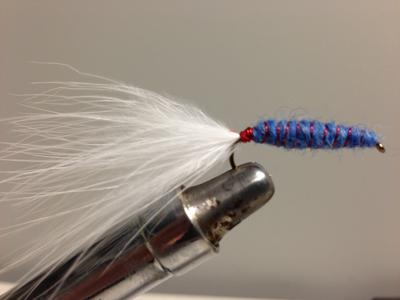 Bleeding Bugger!
I caught my fish of this challenge, a rainbow trout yesterday using a Killer Bugger tied with your Blue yarn, red wire and a white marabou tail on a size 8 hook. Since the water was high and VERY off colored I knew I needed to present something with a larger profile and in contrast to water. I modeled the fly after a successful lure a friend uses in these conditions, a jointed Rapala countdown with a blue back, white belly and red streaks. It's basically a "bleeding shad". Unfortunately the decent sized 'bow slipped away before I could snap his picture, but I wanted to share my experience anyway.
Walk softly and carry a long stick. - Teddy Roosevelt (almost)

"The bitterness of poor quality remains long after the sweetness of low price is forgotten" – Benjamin Franklin
---
Warning:
The hooks are sharp.
The coffee's hot.
The fish are slippery when wet.

---