Antler Line Holders
Antler line holders are hand crafted by Christopher Kuhlow ("Kiwi" to his fellow tenkara anglers) from moose antler. It is said in Japan that a bit of antler provides protection while on the stream. Whether the antler actually protects you is a matter of legend, but it will assuredly protect your line.
Each one has a place to hook your fly, slits to accept your tippet, and a groove in which to wind your line. The center of the antler line holder is hollow so you can use it to hold your line after collapsing your rod, just as you would one of the blue plastic ones. Of course there's no comparison between a piece of molded plastic and a one of a kind hand crafted item (that according to legend even provides protection while you are fishing).
Each also has Kiwi's CK logo, which makes a stylized sakasa kebari.
Each is unique. Each is offered separately.



Antler Line Holder "A" - Sold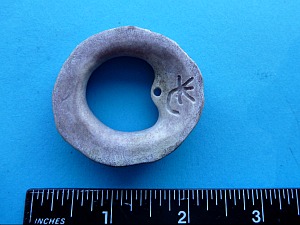 Antler Line Holder "B" - sold



Antler Line Holder "C" - sold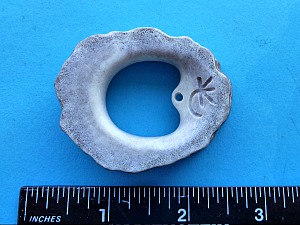 Antler Line Holder "D" - Sold



Antler Line Holder "E" - sold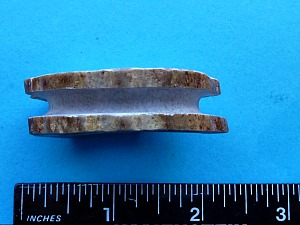 This side view shows the deep groove in the antler, providing more than enough room for either a level line, a traditional horsehair line or a furled line.
The hollow center of the antler line holder allows you to slide it over your rod while walking through the woods.
It turns out that a scunci hair band is just the right size to hold your line in the groove. It isn't quite turnabout for the hair extension craze decimating the dry fly hackle supply last year, but it is somehow satisfying. (Scunci color may vary.)
Disclaimer: Protection while on the stream is a matter of legend but is not guaranteed. No warranty expressed or implied, and all that other legal mumbo jumbo.
Return from Antler Line Holders to Tenkara Accessories
Return from Antler Line Holders to TenkaraBum Home