Anthony Naples' Tenkara Flies

Anthony Naples' Tenkara Flies range from adaptations of classic Japanese tenkara flies to classic American wet flies. Most are flies you won't find anywhere else, and I'm pretty confident they'll put fish on your line.
As with all the other flies on TenkaraBum.com, they are tied by a tenkara angler, for tenkara anglers. They are $12 per half dozen. Purchases of one dozen or more flies will be shipped in the Minimalist Fly Box. International shipments require additional postage.

Tenkara Flies

Brown Hackle Peacock

This is Anthony's signature fly and has been his most productive fly for years. It is strikingly similar to a tenkara fly from the Hida Shokawa region. It is also strikingly similar your father's (or possibly even grandfather's) Brown Hackle Peacock. When Anthony first sent me some over a year ago, saying they were his best fly, it brought back a lot of memories. The brown hackle peacock was my father's favorite fly. He would often fish three wet flies at a time, and the brown hackle peacock was almost sure to be one of them. He caught a lot of fish on that fly and I see no reason why you wouldn't too.
Anthony has sufficient confidence in this fly to make it his "one fly."

Size 12.
Brown Hackle Peacock (Hida Shokawa) - $12 per half dozen
Naples Black Loop Eye Sakasa Kebari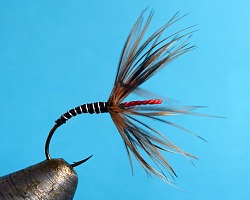 We've all known for some time that tenkara flies in Japan are occasionally tied on eyeless hooks. The tyer first ties on a loop of material to form the eye, which could be a bit of silk cord or even some hi-vis mono. Several tyers here in the US have experimented with the style, but the flies haven't been commercially available.
The loop eye has one definite and one reputed advantage. The definite advantage is that it is much easier to thread tippet through a large loop than a small eye. The reputed advantage is that hooks hold better because there is less leverage to pull them out. These flies are tied on Owner Super Yamame eyeless hooks, about equivalent to a US size 12.

Naples Black Loop Eye Sakasa Kebari - $12 per half dozen
Ishigaki Kebari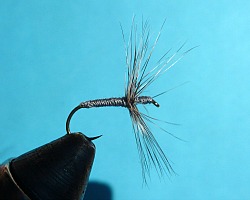 This is my take on one version of the iconic Ishigaki Kebari. Dr. Ishigaki famously believes that because fish have poor eyesight the fly does not matter. And so he keeps his flies simple, with a bare minimum of materials needed to create a buggy fly, with a buggy silhouette – thread and hackle. As with Dr. Ishigaki's original, they are tied with sewing thread bodies. The original Ishigaki flies that I have seen tend to be a bit bulkier than those versions that some have adapted. Dr. Ishigaki ties them quickly and doesn't seem to focus on creating an extremely slim bodied fly. Perhaps the bulkier sewing thread body absorbs water and helps to sink the fly.
I would also add that every time I see an original Dr. Ishigaki fly it looks different. He doesn't seem to stick to this exact version, but instead ties them in numerous variations, with different kinds of hackle, from rooster to hen pheasant. When I asked him about this he basically said that he does it to keep from getting bored – and he reiterated the fly doesn't matter. He does keep two variations in his box, though, one with black t thread and brown hackle and the other with gray thread and grizzly hackle. Of the two, I prefer the gray/grizzly.

The flies are tied on Owner Kuwabara tenkara hooks.
Ishigaki Kebari - $12 per half dozen
Takayama Sakasa Kebari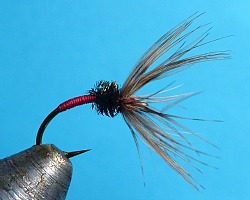 This is my version of a Takayama Sakasa Kebari, a fly originating from the Hida Takayama region of Japan. The Takayama Sakasa Kebari has become perhaps the most iconic tenkara fly. I tie it with hen pheasant hackle. Peacock herl makes everything better, fish seem to have an undeniable attraction to flies with peacock herl. So the combination of reverse-hackle with peacock herl is a winner.
Takayama Sakasa Kebari - $12 per half dozen

Copper Kebari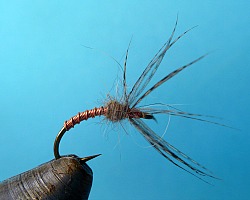 This fly is based on the design of Chris Stewart (your very own Tenkara Bum). The copper wire adds many desirable qualities to this fly such as flash, buggy segmentation and weight. The partridge hackle is kept very sparse so as not to hinder it's sinkabilty. A touch of hare's ear adds an extra bit of bugginess. This fly is a good option for those deeper holes and deep runs or pockets.

Copper Kebari - $12 per half dozen
Gold Ribbed Hare's Ear Sakasa Kebari

Many if not most fly fishermen think of the gold ribbed hare's ear as a nymph pattern, but for a long, long time it was a standard wet fly pattern. Anthony has added the gold ribbed hare's ear body to a sakasa kebari hackle of Hungarian Partridge, and I can assure you that the combination works. Size 12.
Gold Ribbed Hare's Ear Sakasa Kebari - $12 per half dozen

Weighted Flies

Olive Beadhead Caddis

Now that we have rods like the Daiwa NEO LT33SC or the Shimano Kozuka with their stiffer tip sections and backbone necessary to fish beadhead flies, there's no reason not to fish them. Anthony Naples' Olive Beadhead Caddis is simple but effective - kind of like tenkara.
If the fish are feeding near the bottom, and you can't get a long enough drift to get an unweighted fly that deep, and there's no convenient plunge pool to help sink your fly, tie on a beadhead and catch some fish. Size 12.
Olive Beadhead Caddis - $12 per half dozen
Czech Nymph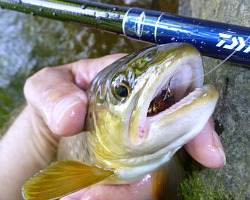 I had asked Anthony if he wanted to tie some Czech nymphs to go along with his beadhead caddis. After all, since fishing a heavily weighted nymph isn't exactly tenkara, there's no reason to limit yourself to one fly or even one pattern.
As soon as I unpacked the flies and saw what he'd created, I set aside a half dozen for myself. The Daiwa Kiyose 33SF does so well with heavily weighted flies that I wanted to have some really nice weighted flies to fish with it.
I would guess it took about three casts to get used to the weight of the fly and put it where I wanted it. Then BAM, fish on. (Neither Anthony nor I will guarantee you'll catch a fish on your third cast, but they are nice flies.)
Czech Nymph - $12 per half dozen
Midges

The black thread midge is my go to pattern for midges. Is it the best? Who knows, all that I know is that I use it and I catch fish on it. I like the simplicity of the pattern. I feel like the silver wire rib makes a nice contrast with the black thread. In short I feel confident fishing it. It may seem like a cliche but, you'll catch more fish if you have confidence in the pattern you're fishing. You can vary the color of the thread and wire rib of this fly. You'll find a million variations on this basic pattern – but this is the one I've settled on for now. I like to site fish it underneath to actively nymphing fish, or fish it in or near the film to risers.
Black Thread Midge - $18 per half dozen
Payment
Payment is through Paypal but you don't need to have a Paypal account. You can use your credit card. PayPal payments will be made to chris at tenkarabum dot com. Credit card statements will read CM Stewart.
Shipping
Domestic shipping is covered by the flat $3 shipping charge added to all orders.
International shipping requires and additional $5 to Canada and $7 to other countries. Please click the appropriate button below.
Please note that international postage is calculated based on the weight of your entire order. If you order multiple items I may have to request additional funds.
Return from Anthony Naples Tenkara Flies to Tenkara Flies

Return from Anthony Naples Tenkara Flies to TenkaraBum Home