---
Please Note: PayPal is having a problem with the Handling Charge, which should be $4 for every order. For some reason, a few orders are not getting the charge. I have contacted PayPal, but until the problem is corrected I will send a PayPal invoice following any order that does not reflect the $4 handling charge.
When you place your order, please look at the PayPal shopping cart contents to see if the $4 Handling charge is included. If not, please click on the button below. That will make a separate PayPal invoice unnecessary (saving time for both of us).
Handling charge - $4
---
Air Stage 硬中硬 390 and Kiyotaki 24 in N Georgia
by Chris Lynch
(Alabama)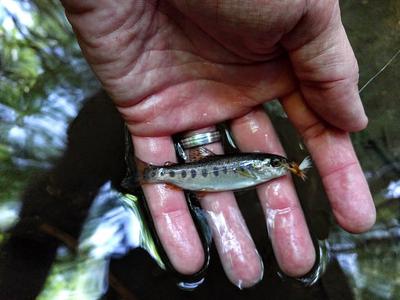 Perfection
Took a return trip to a new favorite river in GA this weekend with some new friends. Brought two rods I didn't have last time; Air Stage 390 硬中硬 (medium) and Kiyotaki 24. Both were awesome. The Air Stage 390 was far too long for me to use in most places there, but when I had room it was a real treat, I love the casting motion and feel with the Nissin 2.5 level line.

While setting up the line in one spot, a little yellow sally mayfly landed next to my friend, and he pointed it out to me. I tied on a size 18(I think) yellow parachute adams and was immediately into fish. A few chubs at first, but I realized I was hitting kinda far back into the run, so I adjusted my cast and landed just into the head of the plunge pool. Saw my line move a little and did a gentle lift, pulling out the most beautiful little rainbow, I think my smallest yet haha. Very happy because it all came together for that moment.

The Kiyotaki 24 was awesome at throwing large wind-resistant or heavy flies. I caught several fish on it, including a nice little rainbow at first light. Very happy with this cheap little rod.

Walk softly and carry a long stick. - Teddy Roosevelt (almost)

Tenkara has no strict rules. Enjoy tenkara in your own way.
- Eiji Yamakawa
"The bitterness of poor quality remains long after the sweetness of low price is forgotten" – Benjamin Franklin