Acorn Floats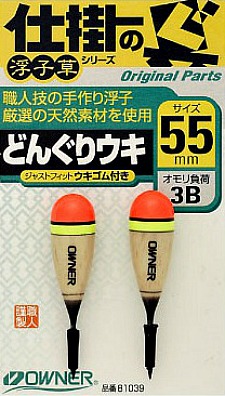 Owner's Acorn Floats can be used for keiryu fishing in place of yarn markers.  You could use them anywhere you would use a yarn indicator or thingamabobber (or just plain ol' bobber). The stem and tubing makes them very easy to adjust - just thread your line through the tubing and then insert the stem into the tubing to hold the line in place. The fluorescent orange top makes them quite visible.
Constructed of balsa wood, they are naturally buoyant and never require any floatant or treatment. They will easily support a tungsten beadhead nymph or a Dinsmore BB shot - or both, for that matter. (Some weight is needed to get them to float properly.)

They are two inches from top to tip and a half inch wide. They're a bit big for micros (the Micro Fishing Floats are better for that) but they'd be just right for trout or panfish.
Owner Acorn Floats - $6.00 for two
---
---
Shipping
A standard shipping/handling charge of $4 will be added to all orders.
Please note: PayPal occasionally does not add the $4 charge. In that case I will send a PayPal invoice for the $4.
If you live outside the US, you must add more postage!

---
Where do you live?


---

USA


Add this amount for shipping.


---

No additional postage required for First Class mail.
(Total charge $4)

---

Canada or Mexico


---

Additional $6 postage required. (Total charge $10)

---

Other Country


---

Additional $10 postage required. (Total charge $14)
---
Payment
Payment is processed by PayPal but you don't need to have a PayPal account. You can use your credit card.
---
TenkaraBum Home > Keiryu Accessories > Acorn Floats

Walk softly and carry a long stick. - Teddy Roosevelt (almost)

Tenkara has no strict rules. Enjoy tenkara in your own way.
- Eiji Yamakawa
"The bitterness of poor quality remains long after the sweetness of low price is forgotten" – Benjamin Franklin